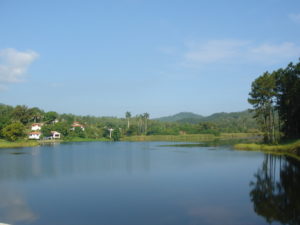 Cuba Spanish Tour are excursions to different places of our country that are interesting because of their cultural, historical, natural or social values. In this way, our students in Cuba interact with the rural life of the country and enjoy the beautiful Cuban countryside.
With Cuba Spanish Tour we visited Las Terrazas, a rural tourism community of sustainable development, located on the banks of the San Juan River, within the Sierra del Rosario, in the Province of Artemisa, part of western Cuba.
Through Cuba Spanish Tour we learned that the community is the result of Unesco's project for biosphere reserves. In 1994 Las Terrazas Tourist Complex was officially established and the installation of modern amenities and the transformation of its economy began, with a move to the services sector, mainly ecological tourism of a sustainable type, that is why was built the Hotel La Moka, restaurants, cafes, rehabilitation rooms, among others. In addition, in this locality is located the house-museum of the already disappeared Cuban singer-songwriter Polo Montañés, the Natural Guajiro, faithful representative of the Cuban culture and song.
The community Las Terrazas has a very high level of autonomy and self-management, the profits of national and international tourism are invested in the care of the environment and the people.