Cuba Spanish Tour in Viñales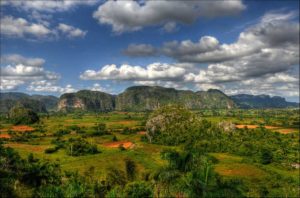 http://spanish-school-havana-cuba.com/en/contact-us-school/
Cuba Spanish Tour are excursions to different places of our country that are interesting because of their cultural, historical, natural or social values. In this way, our students in Cuba interact with the rural life of the country and enjoy the beautiful Cuban countryside.
With Cuba Spanish Tour we visit the Viñales Valley, a natural site, located in the Sierra de los Organos, belonging to the mountainous group of Guaniguanico, in the province of Pinar del Río, is one of the most known and attractive areas of Cuba. characterized by the fusion of its spectacular natural beauty, the conservation of the environment, and the harmonic action of man in the cultivation of minor fruits, fodder and essentially the tobacco planting, whose traditional methods of sowing and production, achieve the universal recognition of Cuban cigar, as one of the best quality in the world.
Through Cuba Spanish Tour we discover that in the Valley there are constructions with indigenous patterns, such as the so-called tobacco house, the well-known shore rod and the typical Cuban bohío. The presence of the huts along with the mogotes and the contrast between the red of the soil and the green of the crops, give the place an exceptional aesthetic and socio-cultural value. In Jurassic period this territory was composed of sea, deltas and plains of the disappeared continent, and has as basic elements of the local geology limestone, where abundant fossils are found.
In the ecological and biological process of terrestrial evolution and development, waters, coasts, ecosystems and species of plants and animals is an outstanding example. In relation to its flora, this one is classified of an atypical evolution, particularly varied in terms of species with characteristics of relics of the past; there are 17 endemic botanical species that are not found anywhere else in the world. Exceptionally it is the Mycrocycas calocoma, known as Palma Cork, the oldest palm of the Antilles, which has the botanical particularity of fixing the nitrogen in the atmosphere due to a bacterium called Beijerinckia, that lives inside this plant.