LEARN SPANISH IN HAVANA with HAVANA LANGUAGE TOUR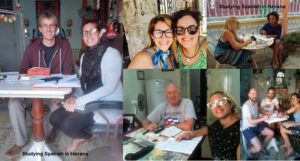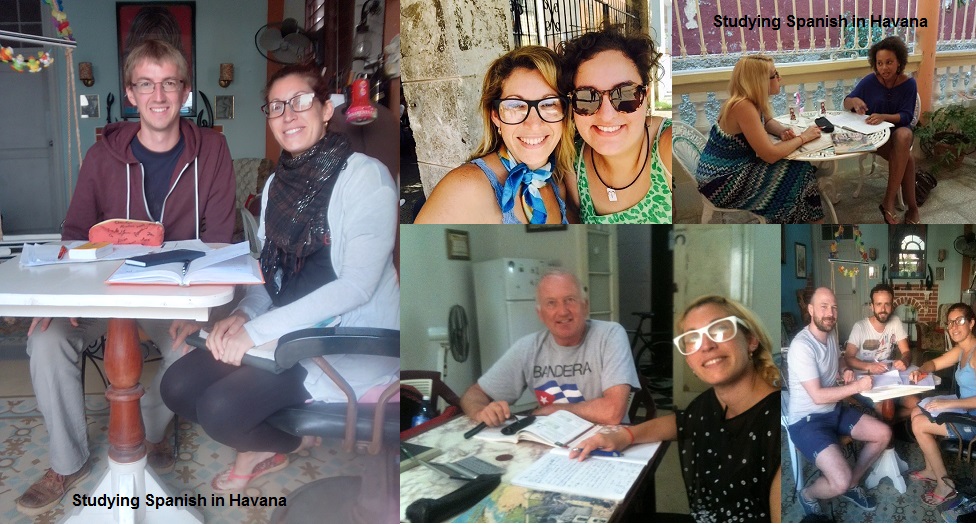 To learn spanish in Havana is to mix knowledge with fun, learning with relaxation. It is to study in open spaces, in the squares, in the gardens, in a Cafeeshop, on the Havana boardwalk. To learn spanish in Havana is the perfect opportunity to make your holidays magical and unforgettable.
Havana is the fascinating capital of Cuba, distinguished as one of the ten best destinations in the Caribbean, seducing by its nostalgic aspect, where time seems not to have passed. For this reason, Spanish School Havana Cuba offer a study program in which you can do tourism and learn spanish in Havana at the same time. "Havana Language Tour" are spanish courses in Cuba specially designed for to please all the tastes and interests of our customers. Through of this program, you will be able to learn spanish in Havana in a relaxed way, to know the city and to be in direct contact with Cubans peoples and their culture.
Note: The program and the timetable is flexible to your interests. Also, we can make for you an exclusive and personal plan in accordance with yours needs.
Book: http://spanish-school-havana-cuba.com/en/contact-us-school/
                                                                                                 1 week
Havana Language Tour                                               550 € per person
Number of lessons: 20 hours
City Tour Havana: 1 day  (from 9:30 to 13:15)
Maximun in class: 3
Lesson length: 45 min
Accommodation:
5 nights guesthouse in Havana / single room and breakfast
2 nights guesthouse in Viñales Valley / single room
It include
– Transfer (Havana – Viñales and Viñales – Havana)
– Orientation about the city
– Reservation in other provinces of Cuba. (Accommodation and Transportation)
                                                                                                         2 weeks
Havana Language Tour                                      1050 € per person
Number of lessons:  35 hours
City Tour Havana: 1 day per week (from 9:30 to 13:15)
Maximun in class: 3
Lesson length: 45 min
Accommodation: 
10 nights guesthouse in Havana / single room and breakfast
2 nights guesthouse in Viñales Valley / single room
3 nights guesthouse in Trinidad City/ single room
It include
– Transfer (Havana – Viñales and Viñales – Havana)
– Transfer (Havana – Trinidad and Trinidad – Havana)
– Orientation about the city
– Reservation in other provinces of Cuba. (Accommodation and Transportation)
                                                                                                                          3 weeks
Havana Language Tour                                           1 490 € per person
Number of lessons:  50 hours
City Tour Havana: 2 days  (from 9:30 to 13:15)
Maximun in class: 3
Lesson length: 45 min
Accommodation: 
14 nights guesthouse in Havana / single room and breakfast
2 nights guesthouse in Viñales Valley / single room
3 nights guesthouse in Cienfuegos City/ single room
3 nights guesthouse in Trinidad City/ single room
It include
– Transfer (Havana – Viñales and Viñales – Havana)
– Transfer (Havana – Cienfuegos, Cienfuegos – Trinidad and Trinidad – Havana)
– Orientation about the city
– Reservation in other provinces of Cuba. (Accommodation and Transportation)